Cisco CCNA Networking Certificate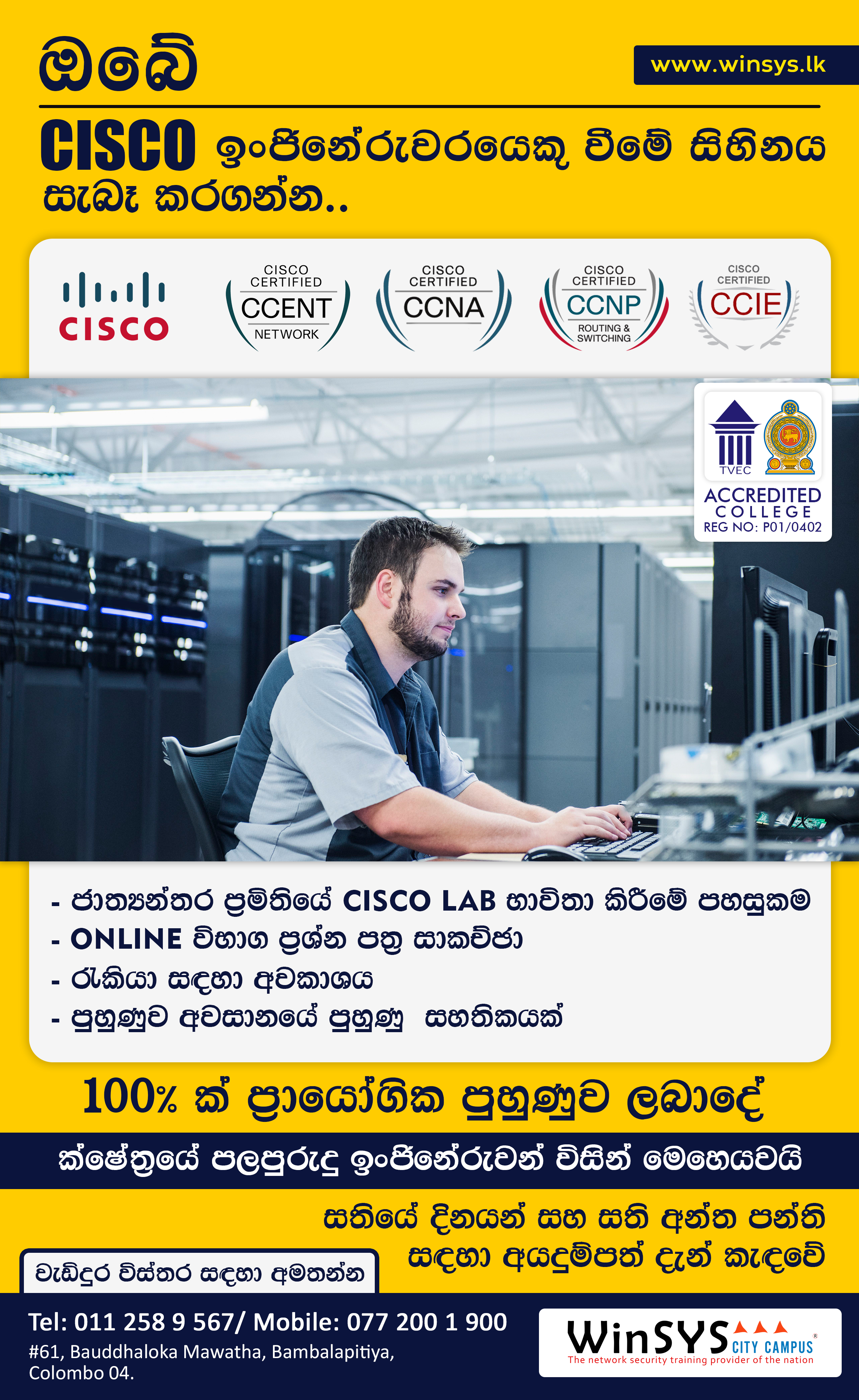 Visit the Sri Lankas Largest Cisco Lab and Learn CCNA / CCNP / CCIE with Qualified Lectures over 20 years Industry experience. Guaranteed job placement upon completing the CCNA / CCNP / CCIE certification at leading Telcos and Companies in Srilanka and Abroad.
Visit the Srilanka's Largest Cisco Lab and Learn CCNA CCNP & CCIE with Qualified Lectures over 20  years Industry experience. Guaranteed job placement upon completing the Certification at leading Telcos and Companies in Srilanka and Abroad. Don't Join any Institute who fails to show their Cisco LAB.Join WinSYS For unlimited Practical with Real Cisco Equipments. ccna ccna
We are the No 01 Best Institute for Cisco CCNA / CCNP / CCIE Course Training in Srilanka for the Last 16 years with 19000 Students, WinSYS CITY Campus provides Cisco network engineering on real Cisco devices (Routers and Switches), with the 7 days lab facility. In order to prepare for latest CCNA R&S V3.0 certification online exam conducted by Cisco.
Course Content
CCNA: Cisco Certified Network Associate (200-301 New Syllabus)

Below are the highlights of the new CCNA 200-301 Exam which was introduced by Cisco on the 24th of February, 2020:

·Single CCNA exam for all tracks (no more CCNA Security, CCNA Data Centre, etc.)

·If candidates have completed any current CCNA/CCDA certification before the 24th of February, 2020, candidates may receive the new CCNA certification and a training badge in the corresponding technology area

·Candidates are required to sit for the new exam to complete the CCNA certification after the 24th of February, 2020

·There are some major changes in the syllabus (e.g. EIGPR & BGP have been removed)

Qualification Title 

CCNA 200-301 New Syllabus

Awarding Body

WinSYS City Campus 

Modules

1.0 Network Fundamentals – 20%

1.1 Explain the role and function of network components

1.1.a Routers

1.1.b L2 and L3 switches

1.1.c Next-generation firewalls and IPS

1.1.d Access points

1.1.e Controllers (Cisco DNA Center and WLC)

1.1.f Endpoints

1.1.g Servers

1.2 Describe characteristics of network topology architectures

1.2.a 2 tier

1.2.b 3 tier

1.2.c Spine-leaf

1.2.d WAN

1.2.e Small office/home office (SOHO)

1.2.f On-premises and cloud

1.3 Compare physical interface and cabling types

1.3.a Single-mode fiber, multimode fiber, copper

1.3.b Connections (Ethernet shared media and point-to-point)

1.3.c Concepts of PoE

1.4 Identify interface and cable issues (collisions, errors, mismatch duplex, and/or speed)

1.5 Compare TCP to UDP

1.6 Configure and verify IPv4 addressing and subnetting

1.7 Describe the need for private IPv4 addressing

1.8 Configure and verify IPv6 addressing and prefix

1.9 Compare IPv6 address types

1.9.a Global unicast

1.9.b Unique local

1.9.c Link local

1.9.d Anycast

1.9.e Multicast

1.9.f Modified EUI 64

1.10 Verify IP parameters for Client OS (Windows, Mac OS, Linux)

1.11 Describe wireless principles

1.11.a Nonoverlapping Wi-Fi channels

1.11.b SSID

1.11.c RF

1.11.d Encryption

1.12 Explain virtualization fundamentals (virtual machines)

1.13 Describe switching concepts

1.13.a MAC learning and aging

1.13.b Frame switching

1.13.c Frame flooding

1.13.d MAC address table

2.0 Network Access – 20%

2.1 Configure and verify VLANs (normal range) spanning multiple switches

2.1.a Access ports (data and voice)

2.1.b Default VLAN

2.1.c Connectivity

2.2 Configure and verify interswitch connectivity

2.2.a Trunk ports

2.2.b 802.1Q

2.2.c Native VLAN

2.3 Configure and verify Layer 2 discovery protocols (Cisco Discovery Protocol and LLDP)

2.4 Configure and verify (Layer 2/Layer 3) EtherChannel (LACP)

2.5 Describe the need for and basic operations of Rapid PVST+ Spanning Tree Protocol and

identify basic operations

2.5.a Root port, root bridge (primary/secondary), and other port names

2.5.b Port states (forwarding/blocking)

2.5.c PortFast benefits

2.6 Compare Cisco Wireless Architectures and AP modes

2.7 Describe physical infrastructure connections of WLAN components (AP, WLC,

access/trunk ports, and LAG)

2.8 Describe AP and WLC management access connections (Telnet, SSH, HTTP, HTTPS,

console, and TACACS+/RADIUS)

2.9 Configure the components of a wireless LAN access for client connectivity using GUI only

such as WLAN creation, security settings, QoS profiles, and advanced WLAN settings

3.0 IP Connectivity – 25%

3.1 Interpret the components of routing table

3.1.a Routing protocol code

3.1.b Prefix

3.1.c Network mask

3.1.d Next hop

3.1.e Administrative distance

3.1.f Metric

3.1.g Gateway of last resort

3.2 Determine how a router makes a forwarding decision by default

3.2.a Longest match

3.2.b Administrative distance

3.2.c Routing protocol metric

3.3 Configure and verify IPv4 and IPv6 static routing

3.3.a Default route

3.3.b Network route

3.3.c Host route

3.3.d Floating static

3.4 Configure and verify single area OSPFv2

3.4.a Neighbor adjacencies

3.4.b Point-to-point

3.4.c Broadcast (DR/BDR selection)

3.4.d Router ID

3.5 Describe the purpose of first hop redundancy protocol

4.0 IP Services – 10%

4.1 Configure and verify inside source NAT using static and pools

4.2 Configure and verify NTP operating in a client and server mode

4.3 Explain the role of DHCP and DNS within the network

4.4 Explain the function of SNMP in network operations

4.5 Describe the use of syslog features including facilities and levels

4.6 Configure and verify DHCP client and relay

4.7 Explain the forwarding per-hop behavior (PHB) for QoS such as classification, marking, queuing, congestion, policing, shaping

4.8 Configure network devices for remote access using SSH

4.9 Describe the capabilities and function of TFTP/FTP in the network

Delivery Method

Classroom based learning and industrial training with hands-on practical

Duration

60 Hours

Entry Criteria

Applicants should be at least 16 years of age and passed with a Credit for GCSE O/L and A/L English

Modes of Study

Part Time/ Full Time

Assessment

Modules within the program will be assessed by practical assessments

Overall Grading Type

Pass

Course Fee

LKR 25,000

Contact Details

For more information call 077 7-860687 or visit us at No. 61, Bauddhaloka Mawatha, Colombo 04
YOU CAN BECOME A PROFESSIONAL CISCO NETWORK ENGINEER IN 01 YEAR.
Whether you are after O/Levels or A/Levels or whether you are employed or unemployed or having IT knowledge or not, you can become a Network Engineer, All what we need from you is your interest and motivation to make your dream career come true.
Cisco calls this as a small network, As the Courses are filled with lot of practical lessons becoming an expert on the trade is no more a challenge to you.
There are four levels in this course. There are CCENT, CCNA, CCNP, and CCIE. Passing the CCNA means your career path is sustained, after completing CCNA all you have to do is maintain your career growth by continuing your studies in Cisco. And the CCNA test indicates knowledge of networking for small to big enterprises. It confirms the ability to manage a networking for small to big enterprises.
It confirms the ability to manage a network of 100 ROUTERS, which means about 1000 switches, which also means about 25000 users. You are not required to follow any other course other than CCNP & CCIE.
Course Learning Structure
Cisco Internetworking
Cisco Networking and Ethernet Networking
Networking technologies
Networking Concepts
IP Addressing
Preparing Network Connections
Basic Cisco Switch and Cisco Router Configuration
Managing Your Network Device
Bridging and Cisco Switching
Cisco Virtual LANs
Routing and Cisco Switching
Configuring Distance Vector Protocols
Configuring Advanced Routing Protocols
Advanced IP Addressing
IP Access Lists
WAN Introduction
Frame Relay
Configure, Verify and Troubleshoot a switch with VLANs and Inter switch Communications
Implement an IP addressing scheme and IP Services to meet network requirements in a medium size Enterprise branch office network
Configure, verify, and troubleshoot basic router operation and routing on Cisco devices
Explain and select the appropriate administrative tasks required for a WLAN
Identify security threats to a network and describe general methods to mitigate those threats
Implement, verify, and troubleshoot NAT and ACLs in a medium size Enterprise branch office network
Implement and Verify WAN links
Course Duration - 60 hours (week days and week end classes)