Diploma in Networking and Security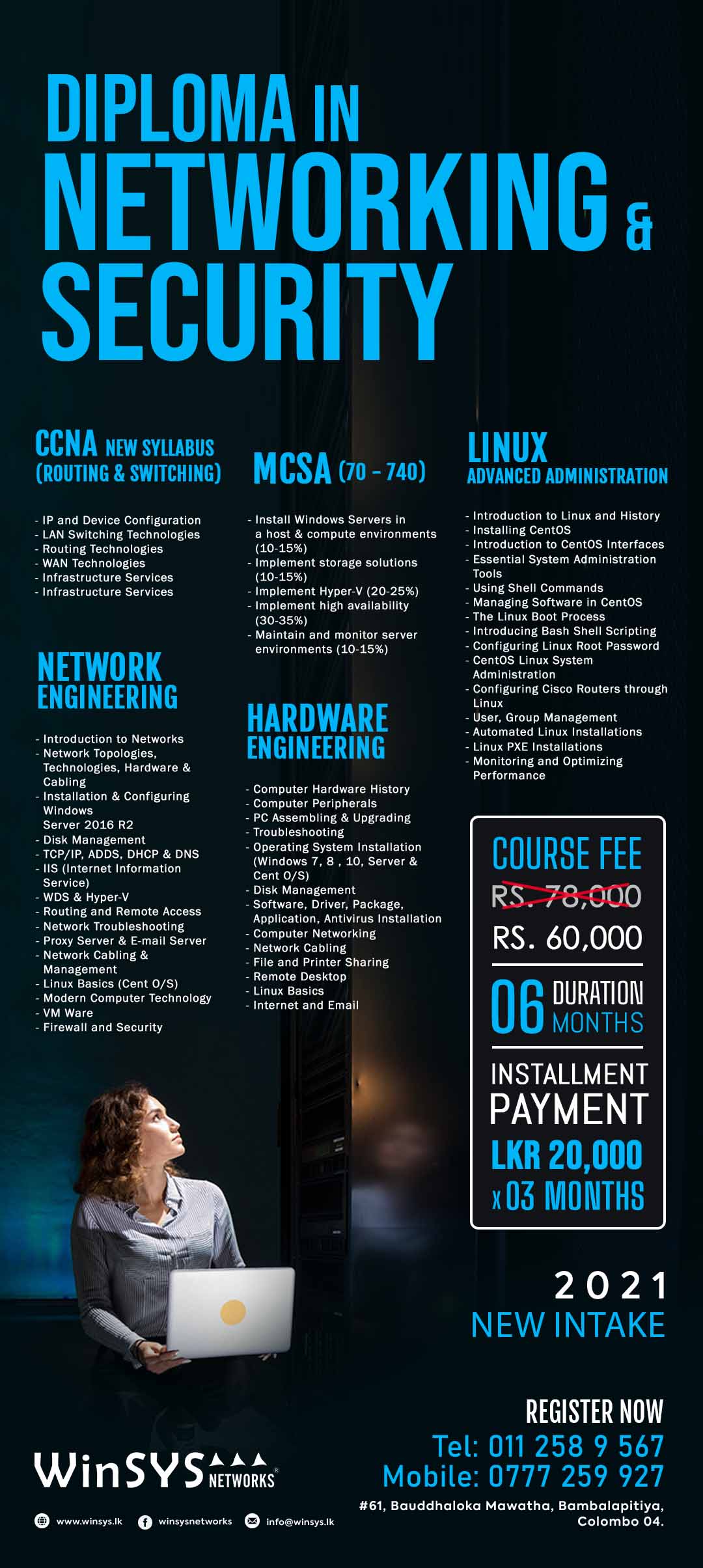 Those whom want to become a Computer and Network Security Administrator or an Engineer, This is your Course. Specially designed to get the job ASAP.Soon after the training you can prepare for four (4) International Certifications and six (5) TVEC Validated Local Certifications.
The institute derives its strength from a qualified, experienced and fully dedicated faculty.
Awarding Body - WinSYS City Campus 
(01) CCNA New Syllabus (Routing & Switching)
1.1 IP and Device Configuration
1.2 LAN Switching Technologies
1.3 Routing Technologies 
1.4 WAN Technologies
1.5 Infrastructure Services
1.6 Infrastructure Services
1.7 Infrastructure Management
(02) MCSA | 70 - 740
2.1 Install Windows Servers in a host and compute environments (10-15%)
2.2 Implement storage solutions (10-15%)
2.3 Implement Hyper-V (20-25%)
2.4 Implement high availability (30-35%)
2.5 Maintain and monitor server environments (10-15%)
(03) Linux Advanced Administration
3.1 Introduction to Linux and History
3.2 Installing CentOS
3.3 Introduction to CentOS Interfaces
3.4 Essential System Administration Tools
3.5 Using Shell Commands
3.6 Managing Software in CentOS
3.7 The Linux Boot Process
3.8 Introducing Bash Shell Scripting
3.9 Configuring Linux Root Password
3.10 CentOS Linux System Administration
3.11 Configuring Cisco Routers through Linux
3.12 User, Group Management
3.13 Automated Linux Installations
3.14 Linux PXE Installations
3.15 Monitoring and Optimizing Performance 
(04) Network Engineering
4.1 Introduction to Networks
4.2 Network Topologies
4.3 Network Technologies
4.4 Network Hardware
4.5 Network Cabling
4.6 Installation & Configuring Windows Server 2016 R2
4.7 Disk Management
4.8 TCP/IP
4.9 ADDS
4.10 DHCP
4.11 DNS
4.12 IIS (Internet Information Service)
4.13 WDS
4.14 Hyper-V
4.15 Routing and Remote Access
4.16 Network Troubleshooting
4.17 Proxy Server
4.18 E-mail Server
4.19 Network Cabling & Management
4.20 Linux Basics (Cent O/S)
4.21 Modern Computer Technology
4.22 VM Ware
4.23 Firewall and Security
(05) Hardware Engineering
5.1 Computer Hardware History
5.2 Computer Peripherals
5.3 PC Assembling
5.4 PC Upgrading
5.5 Troubleshooting
5.6 Operating System Installation (Windows 7, 8 , 10, Server and Cent O/S)
5.7 Disk Management
5.8 Software Installation
5.9 Driver Installation
5.10 Package Installation
5.11 Application Installation
5.12 Antivirus Installation
5.13 Computer Networking
5.14 Network Cabling
5.15 File and Printer Sharing
5.16 Remote Desktop
5.17 Linux Basics
5.18 Internet and Email
Delivery Method - Classroom-based learning, Industrial Training with Hands on Practical
Entry Criteria
Ordinary Level or Advanced Level with Credit for English
Age should be at least 16 years
Modes of Study - Full Time / Part Time
Assessment - Practical Assessments
Fees
Original Course Fee LKR 78,000 (Special Offer - LKR 60,000)
Installement Plan - Initial Payment LKR 20,000 & Monthly 10,000 * 4